원격으로 배치하고 일상적인 IT 작업을 자동화합니다.
Central Premier에서 비즈니스를 위한 엔드포인트 관리 및 보안으로 비즈니스 보호하기
모바일 앱 스토어에서 Logmein을 다운로드하거나 다음과 같은 데스크톱 운영 체제용 Logmein을 다운로드할 수 있습니다.
Gain network-wide visibility to quickly pinpoint, troubleshoot and resolve concerns before they become problems.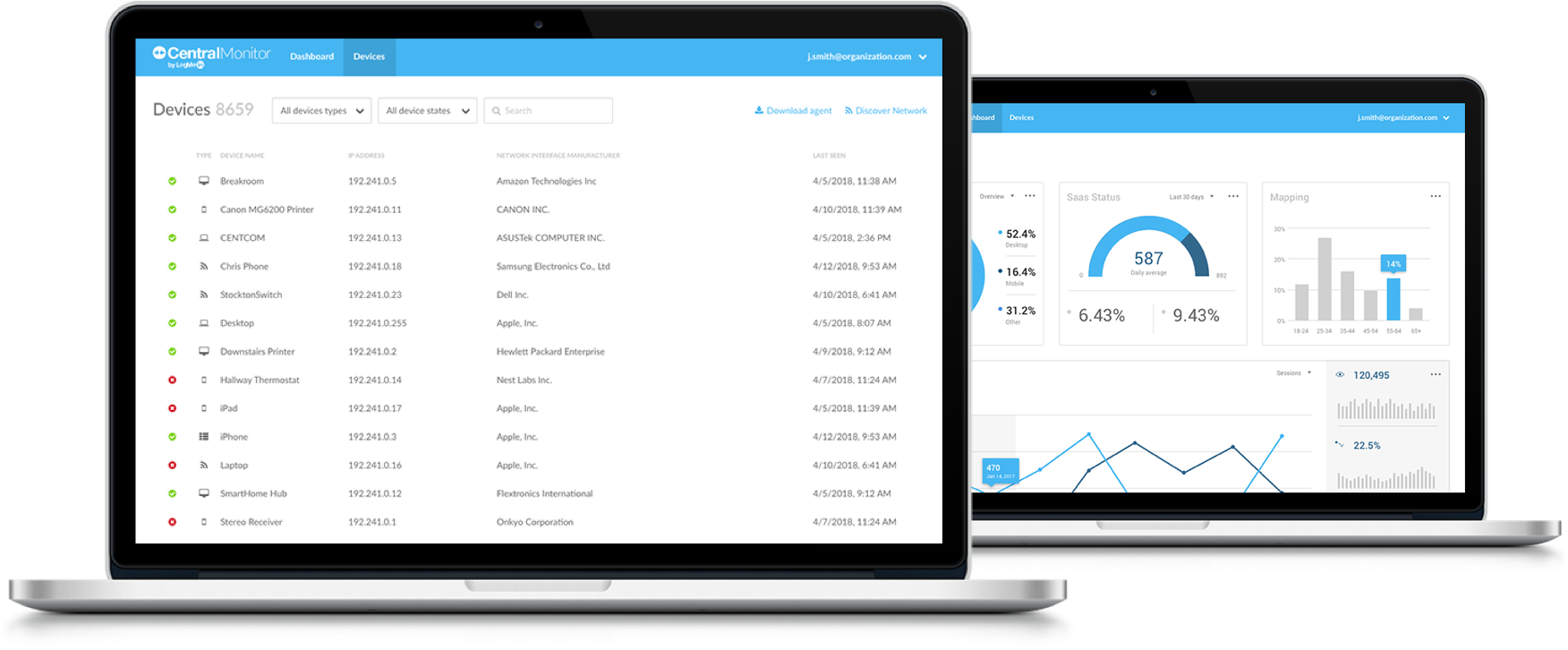 MAP
The Central Monitor Agent takes only seconds to install, revealing all devices with an IP address on your network. Instantly get up/down status, and continue to deploy agents for full health details and accessibility to your devices.


MONITOR
View detailed device information, key health metrics and system statuses through a single, simple interface. Filter by device type and quickly identify points of failure on computers, routers, switches and printers.


MITIGATE
Use the Central Monitor Agent to run CMD or Powershell Commands, View Web Interfaces, send HTTP Requests or Remote Control via LogMeIn*
*LogMeIn Pro or Central account needed for remote control option


How Central Monitor Works
Central Monitor is an out-of-the-box, cloud based IT Infrastructure Monitoring solution. Installing the agent on a single computer or server enables Central Monitor to pick up all devices on your network, giving you instant visibility into what's working and what's not. Be sure to explore our:
Why Choose Central Monitor?
Built with the SMB in mind
Our product is streamlined, designed, and validated entirely by SMB IT professionals. This means we built Central Monitor to meet the exact needs of SMB IT professionals who use it daily. Competitors in market are complex, difficult to deploy, expensive, and difficult to get onboarded. Central Monitor tackles these market barriers and disrupts this space with a simple, intuitive, and easy to use IT infrastructure monitoring solution made for SMBs.
Instant Visibility into Everything on your Network
Knowledge is power and control. Keep your mind at ease with instant visibility into everything on your network. Central Monitor picks up all devices with an IP address and reports up/down status for each device. This single pane of glass view provides instant insight into what's working and what's not and enables immediate identification of bottle necks and resolution of issues.
Intuitive Interface
Central Monitor is intuitive and extremely easy to use, requiring no learning curve to use or maintain the product. Central Monitor has a simple dashboard that shows only the key metrics you need so time to value is immediate. Get up to speed in minutes and have your team up and running immediately. Central Monitor is a 'no frills' tool and shows you everything that you need to know, and nothing that you don't.